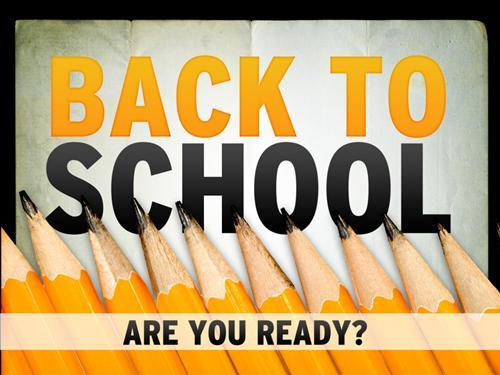 It's that time of year to make preparations for college! This list will be particularly important for students heading off for the first time but even experienced students may find things they missed.
Computer – We can't recommend just one computer because the needs of each student will vary depending on their major and even the college they attends. A computer science major will need something very different than a fine arts major. If you need help deciding, we are happy to answer questions.

Surge Protection – If you're going to have a computer, you need to protect it! Invest in a good power surge protector. It will also save your phone if it is plugged in charging. When choosing a surge protector look for the energy absorption rating. You will want 2500- 3000 joules at a minimum but the higher the better. The one below is rated at 4320 joule. You should also check the warranty to see what is covered if the  unit should fail to protect something during a surge. You'll note there is also a line in and line out for cable. You may be protecting your TV's power but the cable line can also be a source for a surge. Keep in mind some older dorms do not have an abundance of outlets so a longer cord is preferable. The desk may be 6 to 8 feet from the outlet.
USB memory – A new USB thumb drive / memory stick may be in order for your student. With your new computer you will probably have at least one USB3.0 port. The USB3.0 standard is faster. Look for a USB drive which is labeled for USB3.0. A USB2.0 drive will work in a USB3.0 port but the speed will be reduced.
Wireless Chargers – These charging pads may seem excessive but they really do make charging much easier. The cell phone is simply placed on the pad and charging begins. There are different chargers available and you will need to look for one to match the cell phone. Not all phones have this capability yet. Make sure you plug this device into your surge protector too.
Printer – Space is something of a luxury in many dorm settings but having a printer can be very helpful. It is probably best to choose a monochrome printer for the student and now laser printers are very affordable. Look for a WiFi printer with remote printing capabilities.
WiFi Router – If your student will be living off campus, there may a need for a WiFi Router. The best choice here is to find one with 802.11 AC. There will be a number following  the AC like 1200, 1750 or 3150. The larger the number, the faster the router will be. If your student is a gamer, consider getting the fastest possible. If your student is using the net for light research and social media, the lower numbers should be fine. There are now smart routers on the market which can be controlled via a cell phone or tablet but these are probably best for a busy home where there is much competition for bandwidth (i.e. surfing + streaming video + streaming audio + gaming all at the same time). This device will also need to be plugged into a surge protector.
Amazon Prime Student account offers all the benefits of a prime account but at half the price of a regular prime membership. The link below takes you to the sign up page where the first 6 months are free.
Join Prime Student FREE Two-Day Shipping for College Students
**Some of these things are links to Amazon and we are Amazon Associates which means you pay the same price whether you use our link or not but if you do use our link, we earn a tiny commission.**